....about a blog I came across today. I was searching through the Top 50 Mommy Blogs, done by
MomDot
- which by the way, if you haven't checked out who made the list
GO NOW
(one of my favorite mommy bloggers was #1,
MckMama from My Charming Kids
) - and I just happened to come across one of the most touching blog sites I have ever seen.
Let me just start by saying that I am sorry to be posting...AGAIN...about the death of a child, but I couldn't help but feel so connected to this family. The blog happened to be the #19 Top Mommy Blog and I clicked. Never knowing that within the first 2 minutes I would have tears streaming down my face. The blog is named
Baby Mac
. It is a site completely dedicated as a memorial to baby Mckallister. I would love to tell you the story about this wonderful baby, but the site says it all. Now, I warn you, you will cry. Not just "some tears", you will have lots of tears. Please make sure you are not at work when you visit Baby Mac's site.
This blog will put everything in perspective for you. If you were angry at your child for throwing legos, or for hitting the dog, or for not eating his vegetables...you will soon realize that all of those things don't matter. I was so touched by this post that I had to go wake up my 17 month old from his nap just so I could hold him. And again, the tears are flowing.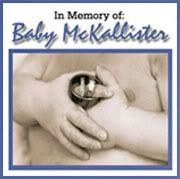 But, honestly, I feel so blessed to have a healthy baby. If you are feeling stressed or overwhelmed or hateful or negative about all the things that mommyhood requires...I promise you won't feel that way after realizing that you have a healthy baby that you can hold and touch. Baby Mac taught me a lot...and even though I cried and felt so sad for his family...I feel honored to have come across this memorial site.
(I will do my best to write more upbeat posts this week, but I couldn't pass up the chance to share this site with you.)